Trips in South Bohemia
South Bohemia has the best environment in the Czech Republic. It's probably the most ideal place for trips to nature and mountains and also some towns are good to see.
Towns
There are several towns, which are worth visiting. Let's have a look at the most distinguished.
Hluboká nad Vltavou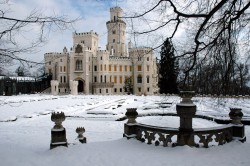 No wonder so many weddings are held in Hluboká Castle – the Castle is romantic even in winter.
This town is famous mainly for its castle called Hluboká. The castle belongs to one of the most beautiful castles in the Czech Republic. Lately, weddings have taken place on Hluboká castle, it's becoming more and more favourite place for arranging weddings. If you want to get to Hluboká nad Vltavou, the best way is to get your bicycle and go there through the cycle track leading from Budweis. You can also visit a nice zoo near the town.
Třeboň
It's a very small town, only 25 kilometres from Budweis. There is a beautiful square, where you'll find a town hall, 31 metres high. You'll get a nice view of Třeboň and surrounding from the top of the town hall. Třeboňský castle is also a part of the town, it used to be a Renaissance seat of the royal house Habsburkové.
Třeboň is the real centre of fishpond cultivation. There are lots of ponds around the town and actually there is one pond inside the town – Svět (mentioned below).
Český Krumlov

Český Krumlov as one of the most beautiful towns in the Czech Republic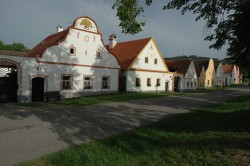 Peasant baroque in Holašovice
It's the second most visited town (right after Prague) in the Czech Republic. It has a population of nearly 61 000 inhabitants. Český Krumlov is a very cultural preserved town, many culture events take place there, from interesting exhibitions to festivals of music. There is also an open air theatre with a popular revolving auditorium, which is unique. The town is in UNESCO from 1992.
Holašovice
Only 15 kilometres in a westward direction from Budweis, there is this picturesque village. You will see the best preserved South Bohemian architecture from the second half of the 19th century in Holašovice. Most of the houses in Holašovice come from era of rural baroque (19th century). Every year in summer, the peasant celebrations (markets with South Bohemian ceramics, old Czech food is available…) are held in here. Holašovice entered into the List of World Cultural Heritage of UNESCO in 1998.
Mountains
South Bohemia is the region with the most beautiful nature. The mountains are proud part of this nature complex.
Šumava
Plešné Lake in Šumava mountains
It's a mountain range lying on the border with Austria and Germany. Šumava is regarded as the most beautiful mountain range in the Czech Republic. The highest peak on the German side is called Velký Javor (Grosser Arber) – 1456 m, on the Czech side it's Plechý – 1378 m. The central parts of Šumava are protected as a national park. Šumava is also an important bird area as well as a lake area. People do trips to see famous mountain lakes such as Černé Lake, Čertovo Lake, Plešné Lake etc.
In winter, it's highly used as a skiing area and in summer, you can do hiking or trips on your bicycle.
Blanský Les
Probably the most famous peak (and the highest) is Kleť (1084 m). Parents with their children go there by a chair lift or on foot. On the top of Kleť, there is a pleasant pub with delicious food, I can tell you.
Novohradské hory
The nature here is rarely preserved. Since 2000, Novohradské hory were proclaimed as a nature park Novohradské hory. This area is full of nature trails and diverse plants. These mountains are not well-known and that's a shame, I think, because they have so much to show us.
Ponds
It is said, that South Bohemia (especially Třeboň area) is a pond area. 61 % of pond extent in the Czech Republic falls on the South Bohemia.
Rožmberk
It's the largest pond in the whole Czech Republic and in Central Europe. Rožmberk is situated 6 kilometres from Třeboň. Since 1922 there has been a little water power plant. This place is not available for swimming.
Svět
A well-known pond is to be found in Třeboň. It's a famous recreational area for bathing in summer. The pond is lined by a row of oak trees – it's useful because whenever you want to hide from the sun (when lying at the pond in hot summer), you'll find a shadow area. The pond is also regularly used for sport fishing as well as for shipping.
Lipno
Lipno is the largest artificial reservoir in the Republic with its size 48,7 square kilometres. Lipno lies close to the borders and is surrounded by very nice nature. It's an important recreation area, mainly in summer people spend there their holiday and bathe in Lipno. But the water is a bit cold for the whole year. However, the water is clean there, but if you still don't feel like swimming, you can always hire a little boat…
Mrhal
This pond is not probably as popular as the previous ponds mentioned, but it's the nearest pond from Budweis, in Jivno village. Mrhal is located in a cottage area, surrounded by a wood. An ideal place for spending summer time not only because of the relatively clean water, but also because of a fine pub at the pond.
Next: Transport
---