Transport
The transportation in Budweis is the same as in the rest of the Czech Republic. Except, that we have no underground as in Prague and no trams.
Walking
Our town is a real pleasure for walking. There are no hills around, just nice flat surface. Pavements and parks – that goes without saying.
Bus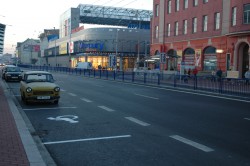 Mercury Centre – the bus station as well as the parking place
Bus is a common kind of public transport in our town. The buses go through the whole town and some of them can take you out of
Budweis
to near villages or small towns. Basically, the ticket machines should be at each bus stop, but sometimes there is no possibility to buy any ticket. The only thing, that remains you to do, is buying a ticket from a bus driver. The tickets bought directly in a bus are more expensive than from the ticket machines or tobacconist's (nowadays the price from the bus driver is 25 Kč for 30 minutes)
The cheapest tickets for adults cost 13 Kč and these are for 20 minutes. The tickets for 16 Kč are for 60 minutes bus ride. All kinds of tickets are transfer. There are also cut-price tickets for children from 6 to 15, these tickets cost half a common price (6 Kč for 20 minutes, 7 Kč for 60 minutes). If you are more than 70 years old, you have the bus ride for free.
When you want to go to another city or village, which is a long way from Budweis, you have to use the main bus station in Mercury Centre (on the second floor). You can buy a seat reservation ticket in Mercury in advance or buy ticket right from the bus driver there.
Train
The main railway station is located close to Mercury Centre. In comparison to buses, trains are often delayed and much slower.For example, the ride from Budweis to Prague takes almost 3 hours by train, but if you go by bus, it takes mostly 2 hours and 20 minutes (especially when you take Student Agency buses – the yellow ones) and just for the record – it's cheaper. However, travelling in a train is more comfortable for some people, you have more space and can use a toilet anytime you want to.
Parking
Parking is payed in the centre (on Přemysl Otakar II Square for example). A parking place on Mariánské Square (situated close to Hotel Gomel) is not also for free. Parking on Senovážné Square and Mariánské Square is always with no trouble, but paid.
If you look for free parking, you should go to IGY or Mercury. On these two places, you'll have free parking for 2 hours.
Cyclists
We have no cycle lanes on the road, so the cyclists use common lanes for cars. Usually, it's very dangerous, when a cyclist rides directly next to a car. I hope, we will have these cycle lanes sometime in future.
However, some cycle lanes are in Stromovka park. Stromovka is widely used by cyclists and skaters.
An ideal place for cyclists and skaters is a cycle track to Hluboká nad Vltavou ( a small town near Budweis, there is a well-known castle). This track begins at Dlouhý Bridge and continues on very smooth surface, which is very pleasant especially for skaters, because the skates are very sensitive to the surface and need a flat track. The track is used most at the weekends, so if you don't like many people around you, try some week day for your trip.
Next: Accomodation
---