Basic info
Basic info about our town and its context. Brief history, famous people of the town, schools, weather. The best place to start reading!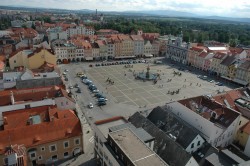 A view of Přemysl Otakar II Square from the Black Tower
Budweis is located in
South Bohemia
(140 kilometres away from
Prague
). It was founded on the confluence of the
Vltava
and
Malše
rivers in 1265 by Přemysl Otakar II. He was one of the most powerful monarch in Bohemia, called "Iron" or "Golden" king.
Budweis is regarded as a metropolis of South Bohemia. People are commuting there for work from surrounding villages (Rudolfov, Boršov nad Vltavou…) and suburbs (Rožnov, Mladé…). The population together with suburbs makes almost 100,000 inhabi­tants.
Budweis is indeed a suitable place to live for several reasons. It has a well-preserved historical centre, you're enveloped by a nice surroundings. There is a quality environment around Budweis and in the whole region. The town is neither big nor small, it has just an appropriate size for people who don't like a noise of big cities.
When visiting Budweis you shouldn't miss all the nice places in our region
South Bohemia
, such as
Šumava
mountains,
Třeboň
or just go on a trip to
Hluboká nad Vltavou
to see a castle. There are so many possibilities where to go not just in
Budweis
, but in the whole region.
This view is taken in front of the town hall, it portrays the whole town centre perfectly
Budweis is well-known for a brewery
Budvar
and
South Bohemian dairies – Madeta
. Budweis also plays the first league in hockey, for these activities there is built
Budvar Arena
 – a stadium a few minutes from the Square.
Tourist centre
It consists of Přemysl Otakar II Square and the near Black Tower. You can meet here quite a lot of Austrians or Germans. Budweis was originally a German town for a long time in the past. Maybe some of them see their roots in Budweis and that's why they come to Budweis.
Famous people
I think, it's not so bold to say, that our nation is keen on ice hockey. A lot of hockey-players play in NHL, for example Václav Prospal. He comes from Budweis, now he's in NHL and I'm sure, that if someone is interested in ice hockey, he will know him, because he plays great hockey even in America.
Other important person who was born in
Budweis
is
Vladimír Remek
. He is the only Czech cosmonaut and the first foreigner who participated in international space flights in former Soviet Union.
Panorama of Přemysl Otakar II Square with the Black Tower in the background
A part of the famous story about the soldier
Švejk
took place in Budweis.
Švejk
belongs to the most important Czech literary pieces.
Education
We have quite young Southern University, which was founded just in 1991. Although there are not so many fields as in other older universities, it belongs to quality schools. However, secondary schools have a long-lasting tradition, here. Old preserved schools such as Jan Valerián Jirsík Gymnasium (secondary school) have tradition longer than 100 years.
Weather
There is temperate climate, the same as in the rest of Central Europe. You shouldn't experience any extreme weather conditions. But in 2002 you might have witnessed to big floods all over the Republic. Fortunately, this flood can come only once in 100 years. We successfully got over it. You don't have to worry for at least 100 years until another flood comes :-).
In summer, the highest temperature comes up to 30 degrees Celsius. In winter, average temperature is about 2 degrees Celsius. Spring is milder form of Summer as well as autumn is something like a step before real winter.
Next: Town tour
---